Welcome to Craven Community College!
Congratulations! You're a Craven CC Panther now, and ready to take your next steps as a college student. Use the following information and checklist to get started on the path to success.
Let's start with three important items:
Panther ID
Craven CC email
Student ID number
Make sure you keep these handy! You should have received this information in an email with the subject line: "Craven CC Student Account Access." If you did not receive this email, contact your Admissions Specialist immediately.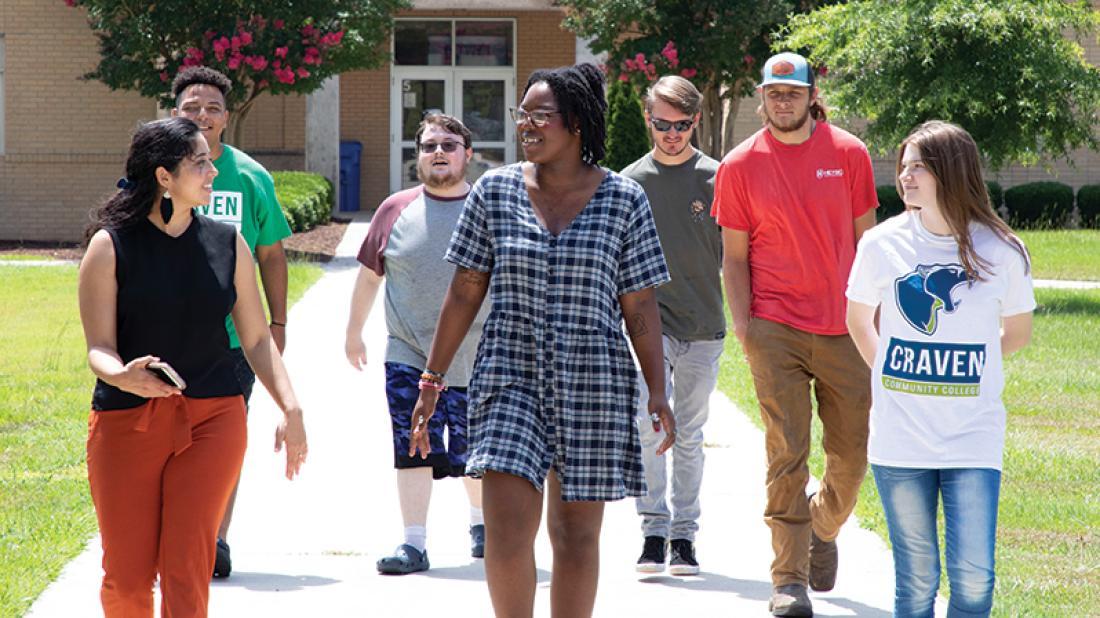 Visit Reset.CravenCC.edu
Click the "Reset Your Password" button
Enter your Panther ID (all lowercase)
Answer security questions
•  Birthdate (MMDDYY)
Set up your password
•  Must be at least 15 characters long
•  Must include special characters
The password you create can be used to log in to Office 365, Self-Service, Moodle, and Outlook.
Panther Portal is your online hub to access important college sites including Moodle, student email, and 
Self-Service, and a variety of other important tools. You can also register for classes, check grades, view the Student Handbook, access financial aid information, and make payments all in one location. You can also view more information below.
Visit CravenCC.edu
○ Click "Attending Craven" in the top right
○ Click "Panther Portal"
○ Sign in with student email and password you created
First-year and transfer students must attend a New Student Orientation session prior to registering for classes. This gives you a head start in making meaningful connections and introduces you to resources that will assist you with meeting your academic and personal goals.
Get help with course selection, registration, and discuss which career path might be right for you by meeting with an academic advisor. To speak with an advisor, choose one of the following:
Visit Advising Services and meet an advisor – no appointment is required, but expect delays during peak registration times
○ Visit Barker Hall on the New Bern Campus
○ Visit Redd Building on the Havelock Campus
Call 252-638-1387 with any registration questions
You must pay for your classes by the payment deadline to remain active and enrolled. Craven CC offers a variety of ways to pay. Visit our Payment Information page for details on payment methods, plans, and financial aid.
Need help with the North Carolina Residency Determination? Call 844-319-3640 or visit their website.
Bring your class schedule and a government-issued picture ID to Student Services to obtain your Panther ID card. Student Services is located on the first floor of Barker Hall on the New Bern campus and the Redd Building on the Havelock campus.
Purchase textbooks, course materials, supplies, and show your Panther Pride with Craven CC gear at the Campus Bookstore, located at the New Bern Campus on the first floor of the Business & Information Technology (BIT) building. Don't forget that our Campus Bookstore accepts Financial Aid!
Visit the bookstore and make purchases online.
Be prepared for any refunds that may come your way by setting up a BankMobile account online, or visit the Cashier's Office for additional information. The Cashier's Office is located in Barker Hall on the New Bern campus and the Redd Building on the Havelock campus.
Don't miss emergency notifications for college delays, closures, and campus threats. Sign up for Rave Alerts to receive important notifications via email, text message, phone call, or the Rave Guardian app.
Get more information or sign up online.
 
Digital Tools for Student Success