Founded in 1965, Craven Community College is a dynamic teaching and learning institution that serves more than 4,000 curriculum students and more than 11,000 individuals in workforce development training programs each year.
With campuses in both New Bern and Havelock, as well as a strong presence at Marine Corps Air Station Cherry Point, Craven CC is committed to meeting Eastern North Carolina's education and training needs. We offer a wide range of associate degree and certificate programs, college transfer courses, career readiness offerings, partnerships with numerous four-year universities, developmental studies, and Career & College Promise for high school students.
All instruction is provided by highly qualified and fully credentialed faculty who are dedicated to teaching and student achievement. We provide an array of conveniently scheduled coursework at our campuses, both day and evening and via distance education, in fall, spring, summer, and late-start terms.
The New Bern campus is home to the state-of-the-art Bosch Advanced Manufacturing Center, a 21st-century nursing simulation lab, and the innovative Craven Early College high school.
Our Havelock campus is located next to MCAS Cherry Point and is home to the Institute of Aeronautical Technology, which provides pilot training, as well as instruction in aircraft maintenance to support the Fleet Readiness Center East at MCAS Cherry Point. Our Havelock campus also offers Early College EAST and the Havelock Public Library, as well as the 16,000-square-foot STEM Center that facilitates NC State's Mechanical Engineering Systems program.
In addition, our Volt Center workforce training facility near downtown New Bern houses various hands-on, skilled trades programs, Small Business Center, community makerspace, and a premier law enforcement training simulator.
Beyond traditional programs and services, the college's vibrant Lifetime Learning Center (LLC) offers numerous unique opportunities for adult learners to enjoy history, culture, arts, and more. The LLC hosts an international film series, performing arts series, and Broadway performance tours to Raleigh and Durham, as well as local, regional, national, and global trips.
The college is also home to Public Radio East, making it one of only a few community colleges nationally with the distinction of housing a radio station.
Craven CC is proud of an outstanding reputation and strong support from elected officials, local chambers, civic groups, and businesses and industries. With an active and engaged Foundation, along with a growing endowment, scholarship opportunities are provided to hundreds of students each year.
History
Craven Community College traces its beginning to the early 1960s, when the Lenoir Industrial Education Center (now Lenoir Community College) in Kinston began offering adult education classes in Craven County. The first two classes offered were blueprint reading and electronics.
By 1963, Lenoir Community College (LCC) was offering continuing education classes at public schools throughout Craven County. That same year, the first nursing students began taking classes at the old St. Luke's Hospital in downtown New Bern.
On July 1, 1965, the North Carolina General Assembly officially created the Craven Industrial Education unit as an extension of LCC. The unit's headquarters was moved to the Harvey Mansion in downtown New Bern and provided space for classrooms and a learning lab, while a machine shop was set up in the former Leona Tolson School in the Croatan community.
In 1967, Craven County voters approved a $5.5 million bond referendum that included $500,000 for a new technical institute. On April 23, 1968, a date now commemorated as Craven Community College Founders' Day, Craven County Technical Institute became an official independent institution of the North Carolina Community College System with the first meeting of the newly constituted Board of Trustees. Within a few months, the new college had purchased 100 acres off Racetrack Road for its campus.
In April 1971, the college moved to its permanent campus off College Court in New Bern. Two campus buildings were in place, and the college had an enrollment of 350 curriculum students and 384 continuing education students. That December, the college received accreditation from the Southern Association of Colleges and Schools and is now known as Craven Community College (Craven CC).
The College has had five Presidents since the Board of Trustees selected the first on Founder's Day:
| | |
| --- | --- |
| Dr. Thurman E. Brock   |  April 23, 1968–December 31, 1989 |
| Dr. Lewis "Steve" Redd     | June 15, 1990–December 31, 2001 |
| Dr. Robert Scott Rawls   | August 1, 2002–April 6, 2008 |
| Dr. Catherine V. Chew     | October 1, 2008–July 19, 2015 |
| Dr. Raymond W. Staats   |   July 20, 2015–Present |
Today, Craven CC has three locations: New Bern campus, Havelock campus, and Volt Center. We currently serve more than 4,000 curriculum students and over 11,000 continuing education students each year. Our mascot is the panther, and our colors are blue and green.
Official College Seal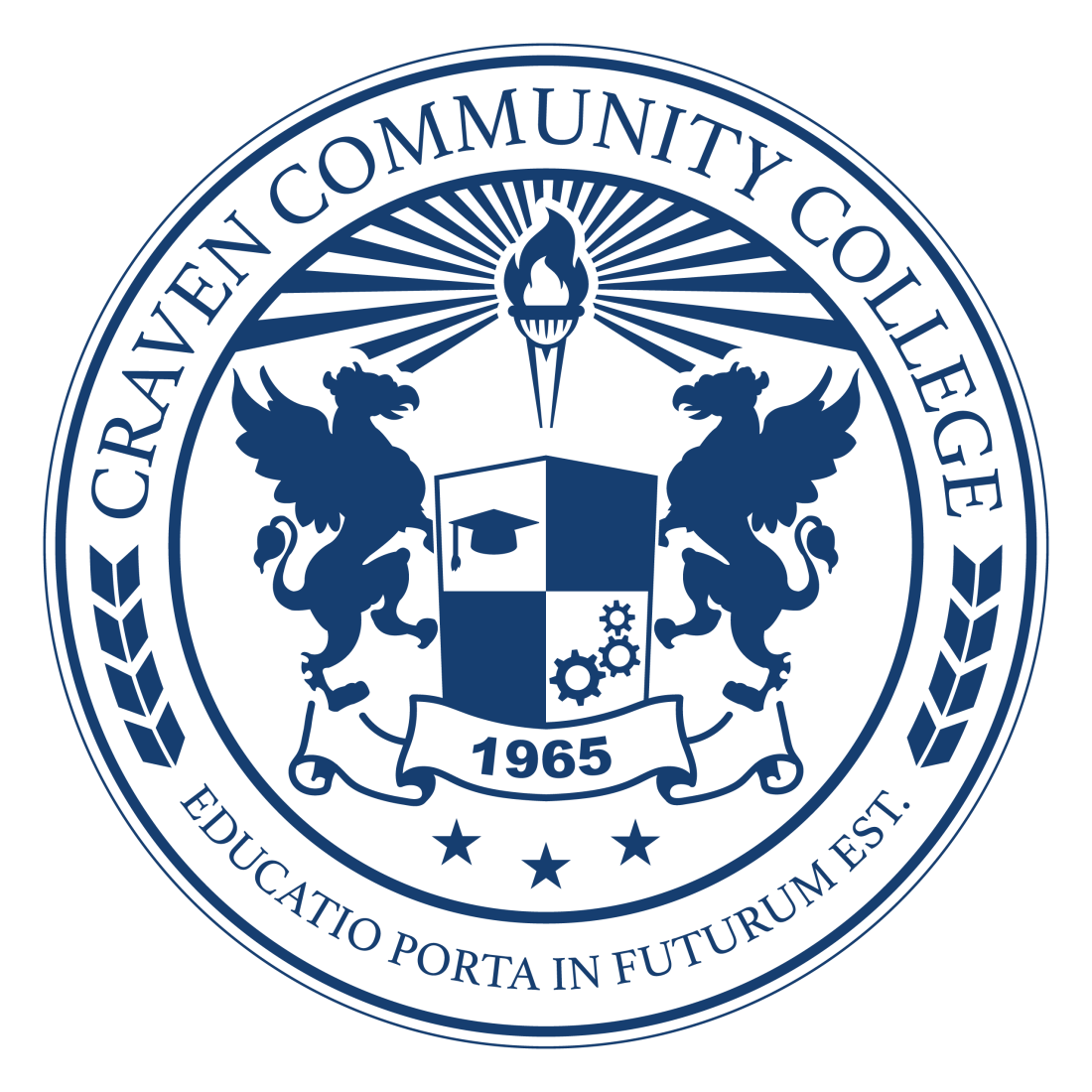 Craven Community College's seal represents the institution's dedication to providing learning opportunities for Craven County citizens and all others who seek to brighten their futures through education. The College seal has very limited applications and should not be used as a substitute for the College logo. Approved usage for the College seal includes diplomas, academic awards and medals, and the ceremonial mace. 
Heraldry
The outer ring of the seal is inscribed with the institution's name, "Craven Community College," on the top and motto, "Educatio Porta In Futurum Est.," (Education is the Portal to the Future) on the bottom.
The torch of knowledge floats at the top, with bands of light emanating from the flame, depicting the intellectual illumination conferred by higher education. The torch represents educational attainment as a precursor to opportunity and the lifelong endeavor of learning.
The shield in the center is quartered. The mortarboard on the upper left quadrant represents the College's academic degrees, certificate, and diploma programs. Depicted in the lower right quadrant are three gears, representing the College's workforce development and continuing education programs. The gears are arranged in a connected staircase pattern, showing the progressive and laddered nature of workforce education.
The shield rests on a scroll inscribed with the year the College was initially chartered by the North Carolina state legislature. Below the shield are three stars that allude to the College's special relationship with Marine Corps Air Station – Cherry Point as its "home College." The individual stars represent the principal College locations; the New Bern main campus, the Havelock – Cherry Point campus, and the Volt Center in downtown New Bern. The shield is surrounded and supported by two griffins facing each other, reflecting a principal heraldic symbol appearing on the seal of Craven County, the College's designated service area, thereby representing the communities supported and served by the College.
The current College seal was approved by President Ray Staats in March 2022.
Regular Operating Hours
Monday-Thursday: 8 a.m. to 5 p.m.
Friday: 8 a.m. to 12 p.m.
Summer Operating Hours
Monday-Thursday: 7:30 a.m. to 5 p.m.