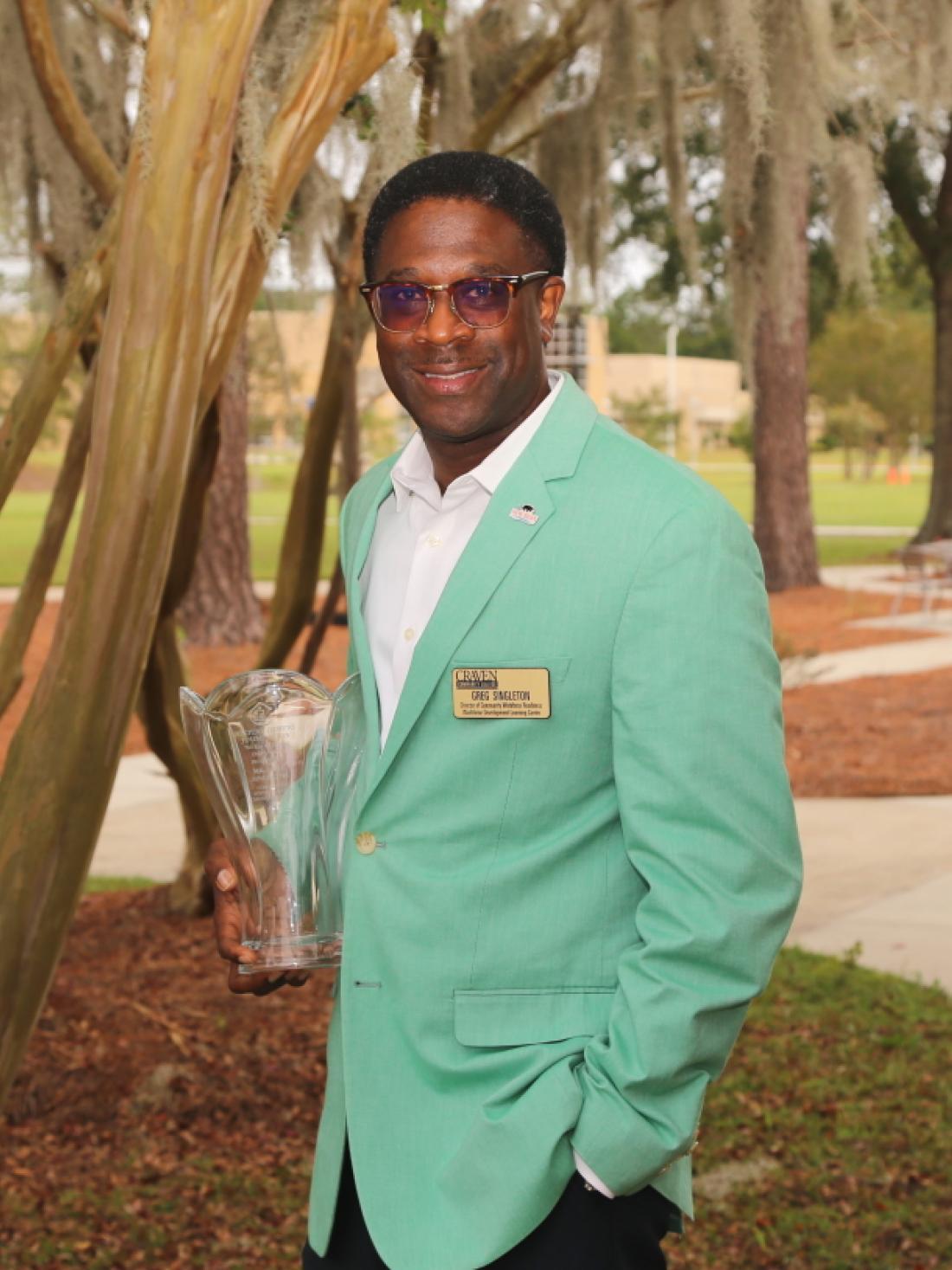 By Holly Desrosier
Craven Community College (Craven CC) Director of Community Workforce Readiness, Greg Singleton, was presented with a 2019 Community Involvement & Humanitarian Award by the Helping Others Foundation on Oct. 4.
The award was created to honor individuals who have excelled in their respective careers and made a profound impact on their local communities. Specifically, Singleton was recognized for his outstanding engagement in community programming for citizens and selfless volunteerism. He received the award during an event to recognize winners in Fayetteville, NC.
Coincidentally, Fayetteville is where Singleton received his Bachelor's in Psychology degree from Fayetteville State University and his U.S. Army commissioning as a 2nd Lieutenant.
"It is also the place where I suffered my greatest fall by being indicted in a drug conspiracy, which led to five years of incarceration, as well as pain, the loss of freedom, the loss of my Army commissioning, family embarrassment and more," said Singleton. "Now, to be honored in Fayetteville as the 2019 Community Involvement and Humanitarian person of the year is the closest to poetic justice one would ever get."
In June 2017, Singleton helped initiate a collaborative training effort led by Craven CC's Strive Train Earn Prosper (STEP) program and Religious Community Services (RCS) of New Bern. The result was the Job Readiness Boot Camp, a program that provides a support network and motivates people to get back on track or take their career to the next level. The systematic, one-week program is divided into several steps designed to help participants ascertain different aspects of career readiness.
While the boot camp is open to everyone, it also opens its doors to ex-offenders and is designed to reduce recidivism, giving those formerly imprisoned the tools needed to ease back into society. Having once been in the same situation, Singleton is able to provide firsthand knowledge and connect with participants and their situations on a deeper level. Upcoming sessions will be held at the RCS Annex Nov. 4-14 and Dec. 2-11 from 8:30 a.m. to 4 p.m.
In addition to his duties at Craven CC, Singleton serves as the project manager for the Craven-Pamlico Re-Entry Council and serves on the NC Statewide Re-Entry Council Collaborative Legislative Implementation team. He is a sought-after speaker who has presented before the United States Department of Justice, Craven County Black Caucus and Craven County Heroin Opioid Prevention Education (H.O.P.E.).
The Helping Others Foundation is a nonprofit corporation with a mission to seek cost-effective solutions to address, educate, coordinate and provide assistance to people in needs in the areas of health/wellness, hunger, higher education and housing on a local and global level.
For more information on the college's Job Readiness Boot Camp, contact Melinda Becton at 252-638-7224 or bectonm@cravencc.edu.
This article was originally published in the New Bern Sun Journal on Oct. 23, 2019.