Get Started on Your 4-Year Degree at Craven CC
If you're planning to pursue a bachelor's degree or more, our university transfer programs can help you get there! These programs make transferring to four-year universities and colleges a virtually seamless process, allowing you to earn your associate degree with us and then transfer to your institution of choice as a junior.
Affordability

Save an average of 47% on your four-year degree by starting your college journey at Craven Community College

Multiple Degree Options

Choose from Associate degrees in the Arts, Science, Engineering, Teacher Preparation, Fine Arts: Music, and Fine Arts: Visual Arts

University Partnerships

Get a BS in Mechanical Engineering Systems from NC State University from our Havelock Campus or join C-STEP for guaranteed admission to UNC-Chapel Hill

Transferability

Graduating with an Associate in Arts or Science gives you virtually unlimited choices for transfer and guaranteed transfer admission into the 16 public universities
Associate Degree Programs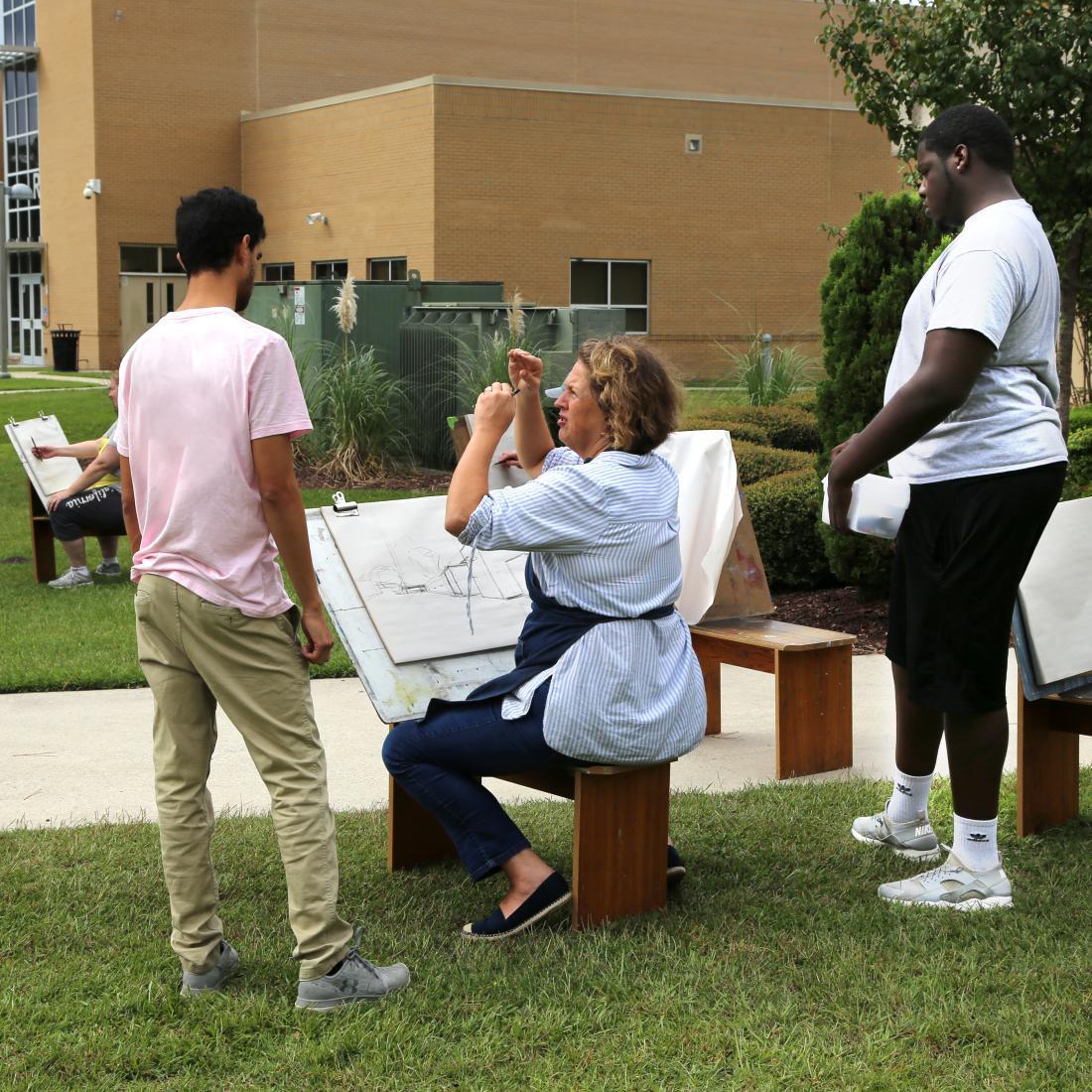 Associate in Arts
The areas of study under our Associate in Arts degree span a wide range of academic interests. You'll delve into subjects such as social sciences, humanities, communication, education, the arts, and criminal justice, preparing you for a career or additional studies in arts, business administration, education and communication, humanities, social sciences, and more.

Learn more about Associate in Arts
Earn Your Degree for Less
Four-year universities are charging students top dollar for a "college experience" that's 47% more than tuition at Craven Community College. Right now, many of the exact same classes are being offered online at both Craven CC and the big universities. You could take those classes with us for $76 a credit hour or through a four-year university at $166 per credit hour.
Our students pay an average of $2,432 a year for tuition versus an average tuition of $4,553 per year at North Carolina's public universities.* And that doesn't even include fees, housing, or meal plans.
Get started with Craven CC and get the same high-quality education at a fraction of the cost!
* Average tuition for full time students at UNC public universities. Figure does not include schools in the Promise Program (Western Carolina University, Elizabeth City State University and UNC Pembroke). Full listing available here.
** Tuition for a maximum load at East Carolina University is $2,226 per semester, equaling a total tuition of $8,904 across four semesters.
Are you interested in attending a four-year university but want to stay local and save money? We've partnered with several universities to provide programs that let you start your college journey here with us and easily transfer to a university after the first two years. We also have programs that allow you to earn your bachelor's degree without leaving the area.
NC State University
Our unique engineering partnership program allows you to earn a Bachelor of Science in Mechanical Engineering Systems from NC State University, all from our Havelock campus. The program is located in our 16,000-square foot STEM Center, which contains spacious classrooms and engineering labs to help you succeed.
UNC-Chapel Hill (C-STEP)
Through our partnership with UNC-Chapel Hill, we offer the Carolina Student Transfer Excellence Program (C-STEP). C-STEP is for high-achieving, low- to moderate-income students who will enroll in an associate in arts/science program with the aim of transferring to UNC-Chapel Hill as juniors with completed associate degrees. 
We also have partnerships with other universities that can help you meet your educational goals.
East Carolina University
Our partnership with East Carolina University (ECU) offers Pirate Promise, which guarantees admission to transfer as a junior to ECU upon completing an associate degree with us. Students can continue their studies in one of 17 program areas, including business, communication, health information, industrial technology, early childhood education, and nursing. At least six of the 17 programs can be finished completely online, while others, such as the associate degree to bachelor's degree in nursing, will require some on-campus instruction or on-site clinical or practical experience.
North Carolina Wesleyan University
Our collaboration with North Carolina Wesleyan University allows NC Wesleyan to offer bachelor's degree programs on our New Bern campus. We currently offer courses for students to earn their bachelor's degree in business administration, organizational administration, accounting, criminal justice, and marketing. The majority of coursework is offered online.
Southern Illinois University
Our partnership with Southern Illinois University (SIU) allows our students to earn a bachelor of science degree in Aviation Management. After obtaining their Aviation Systems Technology degree at Craven CC, students are able to transfer to SIU under the capstone program for their general education and A&P license requirements.